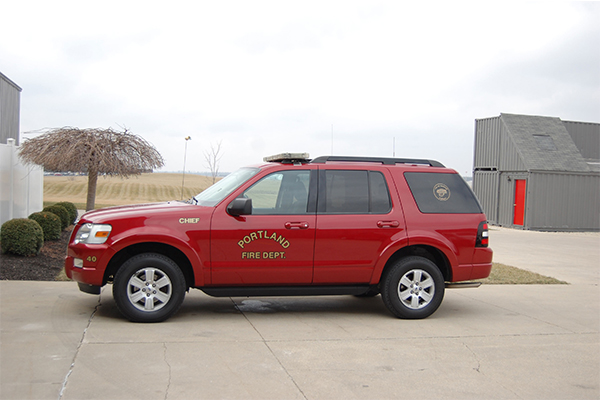 Fire Department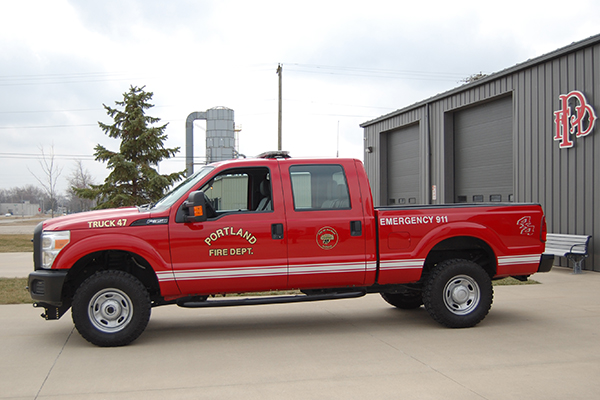 Fire Department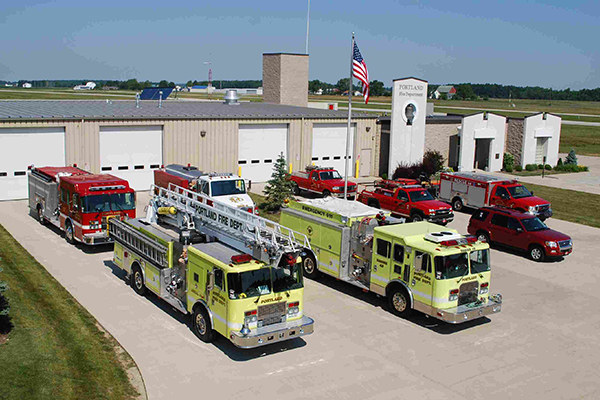 Fire Department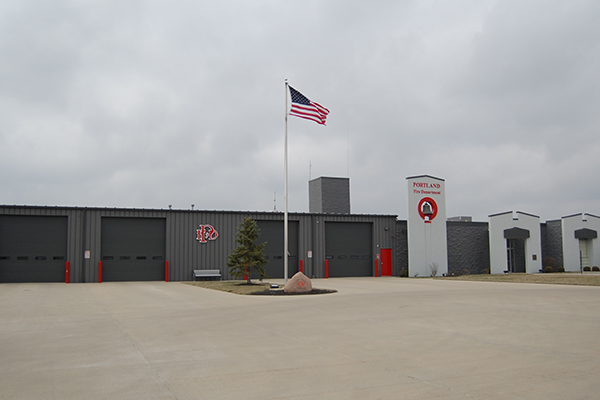 Fire Department
Fire Department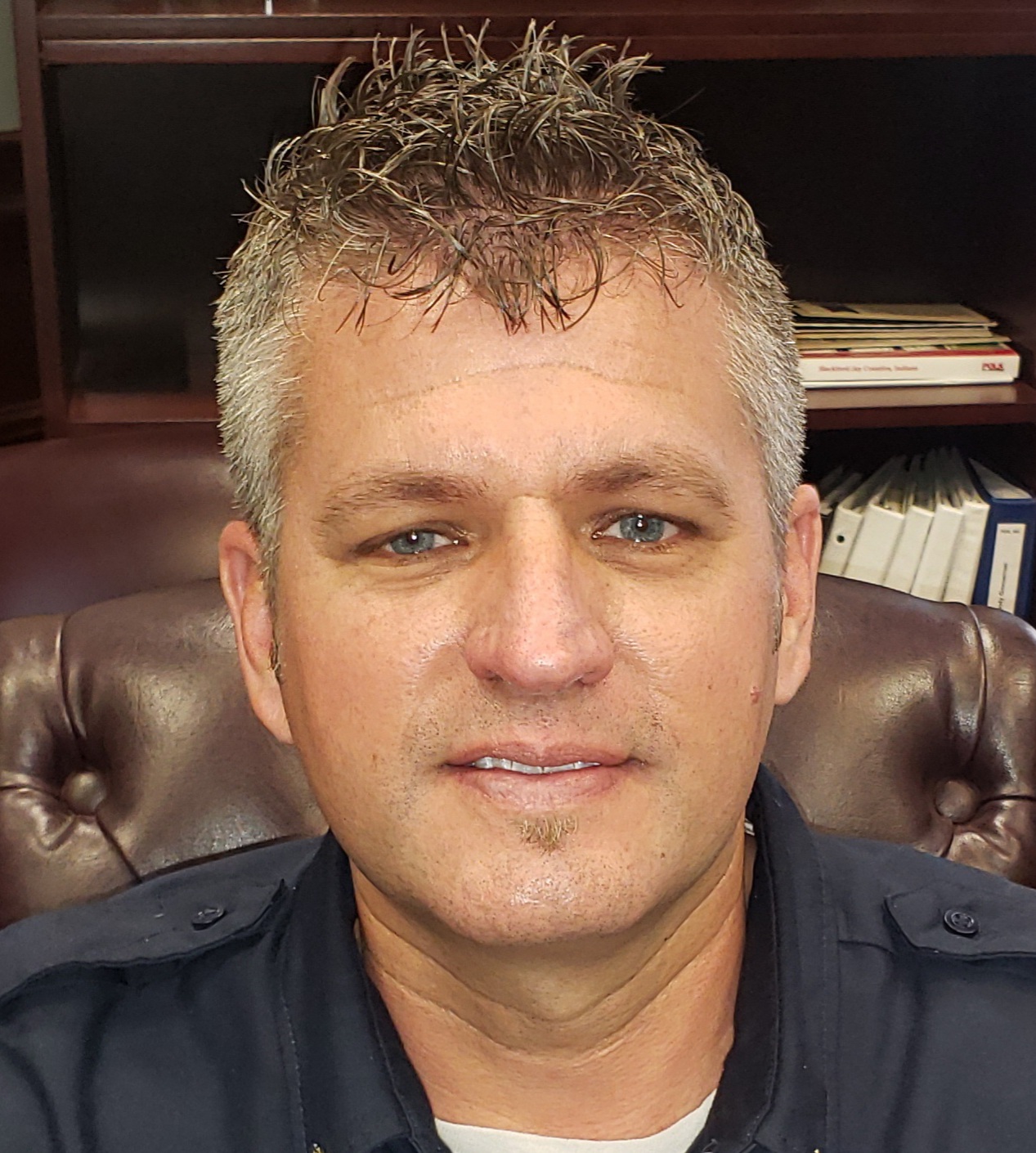 The Portland Fire Department is now offering CPR/First Aid classes to the general public and Provider Level CPR.
Contact Fire Chief Mike Weitzel at 726-4500 for details.
Mission Statement
We will provide a safe and professional response to fire, medical and environmental emergencies. To minimize the loss of life and property through suppression, medical first response, rescue education, code enforcement, investigation and fire prevention.
History of the Portland Fire Department
The Portland Fire Department was founded in the 1880's. An exact date has not been confirmed at this time. The First Fire Chief was Berkley G. Arthur (Bert).
On February 12, 1912, a group of ten men met at the fire department in a session for the purpose of starting an organization to be known as the Portland Volunteer Firemen's Association. C.O. Headington was named the first president of the association.
In 1919 the City council voted to purchase their first motor powered fire engine. The truck was purchased from American LaFrance Fire Engine Company at a price of $10,250.00.
As the City of Portland progressed, the City council agreed to hire full-time firefighters to man the station thus creating the Portland Fire Department with 3 full-time firefighters and 20 volunteer firefighters.
In 1929 the city of Portland accepted a bid in the amount of $19,000.00 for the construction of a new fire station to be built on the same location as the old station. This new station was completed and occupied in 1930. An addition was added to the rear of this station in 1978 for the use of housing more apparatus, making this station 4,500 square feet.
In 2002 the City of Portland, Mayor Jim Hedges decided that the fire station was too small for as much as the city has grown, along with it the size and number of apparatus that the Fire Department had. The city decided to build a new station to replace the 1930 station but at a different location. This new station was the location of an existing building that was remodeled and completed in September 2003 at a cost of $775,000 with over 18,000 square feet and is located at 1616 N. Franklin St., and houses all of the department's apparatus and equipment.
The Portland Fire Department today has 9 full-time firefighters and 24 part-time paid-on-call firefighters. Current Chief: Mike Weitzel, Assistant Chief: Dustine Hilfiker, and Captain: Mitch Southworth.
In 2020, we recorded 608 individual hours of training as a department. These trainings included medical, vehicle extrication, fire operations and tactics, tours of local facilities, and online training classes or programs. Unfortunately, this year we were limited on trainings due to COVID-19 canceling several planned trainings.
The Department's fleet of apparatus includes a 75ft aerial ladder, fire engine, rescue engine, 2,100-gallon tanker, brush truck, utility/medical truck, command truck, foam trailer, boat w/trailer, and a fire safety trailer.
Year End Reports
Total Incidents For 2020
City
535 (73.1%)
County
197 (26.9%)
Total
732
Type of Incident
Medical
492
66.8%
Medical OD
54
7.3%
Structure Fire
13
1.8%
Vegetation Fire
5
0.7%
Vehicle Fire
10
1.4%
Other Fire
25
3.4%
Smoke/Odor Investigation
23
3.1%
Hazmat/Carbon Monoxide Alarms
9
1.2%
MVA w/ Extraction
7
1.0%
MVA w/o Extraction
25
3.4%
Other Rescue
11
1.5%
False Calls/Alarms
51
6.9%
Service Calls
11
1.5%
Total Incidents by Township
Wayne
92
12.6%
Greene
33
4.5%
Pike
39
5.3%
Jefferson
19
2.6%
Other
14
1.9%
Due to COVID-19 concerns attendance by the public to ALL City meetings will be virtually. To join a meeting contact the Mayor's office ahead of time to get connection details.
Board of Works and Safety Meeting

10:00 am
City Hall, 321 North Meridian Street, Portland, IN 47371
Board of Works and Safety Meeting

10:00 am
City Hall, 321 North Meridian Street, Portland, IN 47371
Board of Works and Safety Meeting

10:00 am
City Hall, 321 North Meridian Street, Portland, IN 47371
Board of Works and Safety Meeting

10:00 am
City Hall, 321 North Meridian Street, Portland, IN 47371
Board of Works and Safety Meeting

10:00 am
City Hall, 321 North Meridian Street, Portland, IN 47371