City Court
Donald C. Gillespie
Judge

1616 N Franklin St
Phone:
260-726-3358
Fax: 260-726-3359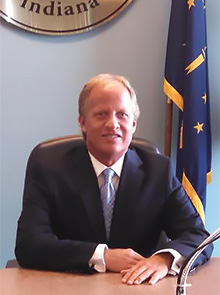 Hours of Operation:
Monday, Tuesday, Thursday
8:30am-12pm & 1pm-4:30pm

Wednesday
8:30am-1pm & 2pm-4:30pm

Friday
8:30am-12pm
Traffic Offense Charges
If you have been cited with an infraction of Indiana Motor Vehicle Laws, the officer has given you a copy of the complaint and served you with a summons. Out-of-state motorists may be required to surrender their driver's license or a valid Motor Club Card, which has been approved by the Indiana Secretary of State. All motorists are required to appear in court or admit the violation by paying a judgment that is acceptable to the court.
If you choose to deny the charge, please appear in court on the date and time assigned for the initial hearing, A trial date will then be assigned. You have the constitutional right to: (1) A speedy trial; (2) Counsel of you own choosing; (3) Confront and cross-examine witnesses against you; (4) Have witnesses testify in your own behalf; (5) Require the state to prove guilt by a preponderance of evidence; (6) Appeal any decision of the court.
As a convenience to the motorist, you may admit the violation without appearing in court, however; you should be informed that (1) Your admission will have the same effect as a judgment of the court and (2) A record of judgment will be sent to the Commissioner of Motor Vehicles of Indiana or the state where you received your license.
Below is a schedule of infraction judgments which has been set by the court. If the offense with which you have been charged does not appear or you have been charged with multiple offenses, call the court for instructions. If you wish to use this service and you are eligible to do so, follow these instructions:
1) Find the offense with which you have been charged on the front of the summons.
2) Locate the violation on the form below and the amount of the required payment.
3) Sign the appearance, plea, and waiver on the back or front of the summons.
4) Mail a MONEY ORDER OR CASHIER'S CHECK payable to the PORTLAND CITY COURT for the total of the fine plus court costs TOGETHER WITH THE SUMMONS. If you wish a receipt, please enclose a self-addressed stamped envelope. PERSONAL CHECKS ARE NOT ACCEPTABLE and will be returned to you and your case will be treated as though you did not appear.
Credit or Debit Card Payments:
YOU MUST HAVE YOUR TICKET NUMBER OR UTT NUMBER IN ORDER TO PAY BY CREDIT/DEBIT CARD.
If you pay at the Court Office (1616 N. Franklin St.), there is a 3% convenience fee with a minimum charge of $2.00.
If you pay over the phone (260-726-3358), there is a 3.95% convenience fee with a minimum charge of $2.50.
If you pay via the internet Click to Pay Opens a New Window, there is a 3.95% convenience fee with a minimum charge of $3.00.
5) If payment is not received by the appearance date on the summons, a $25 late fee will be added to each ticket.
6) FAILURE TO APPEAR OR PAY A JUDGMENT BY THE APPEARANCE DATE MAY RESULT IN A SUSPENSION OF YOUR DRIVING PRIVILEGES.
Infraction Judgements
EFFECTIVE JULY 1, 2023 / MOVING OR HAZARDOUS OFFENSES
SPEEDING, 1-19 M.P.H, Over Limit $1.00 Per Mile Over Limit + Court Costs of $139.50 -- (Example: 69 In 55 MPH Zone) Fine $14.00 + $139.50 = TOTAL $153.50.
Speeding, 20-30 M.P.H. Or More Over Limit: $35.50 + Court Costs of $139.50 = TOTAL $175
Speeding At Worksite, or Speed Contest Anywhere - Mandatory Court Appearance
Infraction
Fine & Court Costs
TOTAL
Passing School Bus While Loading Or Unloading
Mandatory Court Appearance
Driving Left of Center Or Unsafe Movement Causing Accident
$25.00 + $139.50
= $164.50
Disregarding Stop Sign Causing Accident
$25.00 + $139.50
= $164.50
Failure To Yield Causing Accident
$25.00 + $139.50
= $164.50
Driving Left Of Center Or Unsafe Movement
$25.00 + $139.50
= $164.50
Unreasonable Speed Due To Weather Conditions
$25.00 + $139.50
= $164.50
Operating With Learners Permit Without Licensed Driver
$25.00 + $139.50
= $164.50
Failure To Yield (No Property Damage Or Accident)
$25.00 + $139.50
= $164.50
Following Too Closely Or Parking Where Prohibited
$25.00 + $139.50
= $164.50
Disregarding Stop Sign (No Property Damage Or Accident)
$25.00 + $139.50
= $164.50
Passing In Violation Of Sign, Markings Or Improper Passing
$25.00 + $139.50
= $164.50
Disregarding Signal Indicating Approach Of Train
$25.00 + $139.50
= $164.50
Improper Turn Or Improper Parking On Roadway Or Running ATV On Roadway
$25.00 + $139.50
= $164.50
Wrong Way On One Way Street Or Disregarding Flashing Signal
$25.00 + $139.50
= $164.50
Failure To Dim Headlights Or To Use Turn Signals
$25.00 + $139.50
= $164.50
Driving While Suspended Infraction (I.C. 9-24-19-1)
Mandatory Court Appearance
NON MOVING OFFENSES
No Insurance I.C. 9-25-8-2 or 9-25-4-3
Mandatory Court Appearance
No Valid Or Expired Operator, Chauffeur Or Public Passenger License
$25.00 + $139.50
= $164.50
No Operators License On Person When Required
$25.00 + $139.50
= $164.50
No Or Expired Registration Plate Or Improperly Displayed
$25.00 + $139.50
= $164.50
False Or Fictitious Registration Plate Or Registration
$25.00 + $139.50
= $164.50
Equipment Violations (Headlights-Taillights-Other Lights)
$25.00 + $139.50
= $164.50
No Motorcycle Or All Terrain Vehicle Endorsement or Registration
$25.00 + $139.50
= $164.50
Child Restraint
$25.00
Seat Belt Violation
$25.00
Junk or Abandon Vehicle for 1st Offense - Additional offenses fine will increase
Contact City Court @ (260) 726-3358
Ordinance violations 1st offense
Additional offenses fine will increase
Contact City Court @ (260) 726-3358
**All Offenses Not Listed Here require A Call to the Court
City Council Meeting

5:30 pm
Council Chambers, 1616 North Franklin Street Portland, IN 47371
Park Board Meeting

5:30 pm
Council Chambers, 1616 North Franklin Street Portland, IN 47371
Board of Works and Safety Meeting

4:00 pm
City Hall, 321 North Meridian Street, Portland, IN 47371
City Council Meeting

5:30 pm
Council Chambers, 1616 North Franklin Street Portland, IN 47371
Aviation Board Meeting

4:00 pm
Airport Conference Room, 661 West 100 North Portland, IN 47371